The Office of the Police and Crime Commissioner is investing in local organisations to help reduce anti social behaviour and offer diversionary activities for young people who may be at risk of entering the Criminal Justice System.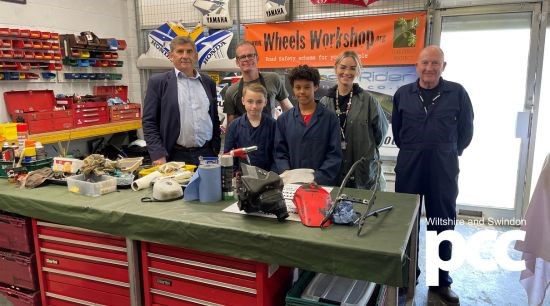 Last week, Wiltshire Police and Crime Commissioner Philip Wilkinson paid a visit to Swindon based charity Mototyouth which runs the Wheels Workshop, a course of five two-day sessions during school holidays on motor mechanics. These sessions have been funded by the PCC's Community Action Fund. 
Over the course of sessions, young people learn how to repair mopeds as well as ride them safely and legally. They also have the chance to speak with two PCSOs who also attend the Wheels Workshop sessions to answer any questions about road safety. 
During his visit, Mr Wilkinson spoke to the young people about how the Wheels Workshop sessions give them a sense of purpose during the summer months and how the skills they learn can be the start of a promising career in motor mechanics.  
Mr Wilkinson said: "The school summer holidays are a time when we see more young people getting themselves into trouble whether that be through antisocial behaviour or more serious crimes, but Motoyouth's Wheels Workshop provides effective early intervention, and enables young people to channel their energy into productive and useful activities which equips them with skills for the future. 
"By investing in groups like Motoyouth, we are also providing young people with a safe space to go during the summer holidays, and an opportunity to engage positively with PSCOs and build on their trust in the Police. The project tackles crimes that matter most to local communities, including anti-social behaviour and road safety, which is one of my main priorities in my Police and Crime Plan." 
Wheels Workshop Course Leader, Rob Fox said: "Having the project funded through the PCC's Fund this year has been fantastic. We work with young people who need something to keep them focused while they aren't in school, while also setting them up with the basic skills needed for a potential career in motor mechanics. 
"Having the PCSOs here allows them to build a rapport with the Police, so they realise that they aren't just here to ruin their fun but to support them in their activities and hobbies outside of school, and keep them safe while doing so." 
Find out more about the community groups funded by the PCC's Community Action Fund, the eligibility criteria and how to apply for future funding here. 
Contact Information
Amy Pantall
Campaigns and Communications Manager
OPCC
This email address is being protected from spambots. You need JavaScript enabled to view it.