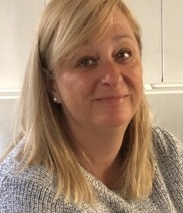 Position:

Councillor
This email address is being protected from spambots. You need JavaScript enabled to view it.
Download information as:
vCard
Miscellaneous Information:

I am a fully qualified HR professional who has spent my entire career working full-time within the field of Human Resources and Business Management.  For the past 15 years I worked at Senior Executive level for an Environmental Consultancy but took early retirement after the successful sale of the business in late 2020.

I have lived in Malmesbury for 11 years with my husband, Paul.  Between us we have four grown up children, two of which attended Malmesbury Secondary School. 

For the past 7 years we have lived in The Old White Lion, one of Malmesbury's historic buildings, having completely renovated it from the date of purchase.  During our time here we have opened our home up for the enjoyment of the local community running social events such as history talks, quizzes, joining in with the carnival and historic open days.

I am very community spirited and love to join in with whatever is going on in Malmesbury.  My outside interests include arts and crafts, local history, reading and walking.  I am also currently the Treasurer of the Malmesbury Women's Institute.