Online booking system for household recycling centres     
             
A new online booking system will be available from Thursday 4 June to allow you to book a visit to any household recycling centre (HRC) in the county, up to three days in advance. 15 minute slots will be available for visits to HRCs from Monday 8 June onwards. From Monday 8 June, you must pre-book a slot to visit a HRC.
Other changes from Monday 8 June:
The Stanton St Quinton HRC will be open for pre-booked slots
HRCs can now accept soil, rubble, plasterboard, textiles and, with notice, asbestos (some sites only)
Other restrictions, including no trailers or vehicles 3.5 tonnes or over, remain in place. We will still be operating the postcode entry system to visit HRCs up until the sites close on Sunday 7 June.
Booklet to help families prepare for return to school

We have created a short guide with some tips to help families prepare as early years settings and schools welcome more children back through their doors.
The government has said early years settings, primary school reception, Year 1, 2 and 6 can return from 1 June. Secondary school years 10 and 12 will have some face-to-face contact from 15 June.
The booklet has some helpful tips for families including:
Talk about the positives of going back to school
Talk about all the things you have done during the lockdown period
Think about ways for them to connect with their friends before going back
For younger children explain when this is going to happen i.e. there are so many sleeps before going back
Encourage open discussion
Start to encourage the number of times your children wash their hands and practise maintaining social distancing
Share school information with them to help them prepare for the changes 
Put a routine in place in the run up to going back get your child to talk to you about what the routine will look like
Read more and download the booklet 
Groups of up to six people can now meet outdoors


You can now spend time outdoors, including in gardens and other private outdoors spaces, in groups of up to six people from different households provided you follow strict social distancing guidelines.When seeing friends and family outdoors:
Access private gardens without entering someone's home, wherever possible
Do not go indoors unless you need the toilet urgently, or are passing through to access the garden
Avoid touching surfaces and if you use the toilet wash your hands thoroughly, wipe down surfaces, use separate or paper towels and wash or dispose of them safely after use
You cannot use garages, sheds or cabins with non-household members – these are all indoor areas where the risk of transmission is higher
You should not share garden or sports equipment with people outside of your household
You can have a barbeque or a picnic, but should, where possible, try to avoid sharing food and drink. You should not pass each other food or drink unless you live together. You should not use plates or utensils that someone from another house has touched - either bring your own or ensure you have thoroughly cleaned them before using. Wash your hands frequently and thoroughly for at least 20 seconds and use disposable towels if possible.
Read the government's FAQs on social distancing 
What has changed if you are shielding
Government guidance for people who are shielding has been updated.
People who are shielding remain vulnerable and should continue to take precautions but can now leave their home if they wish, as long as they are able to maintain strict social distancing. If you choose to spend time outdoors, this can be with members of your own household. If you live alone, you can spend time outdoors with one person from another household. Ideally, this should be the same person each time. If you do go out, you should take extra care to minimise contact with others by keeping 2 metres apart.
Shielded people should continue to avoid all non-essential face to face contact. This means they should not go to places like supermarkets or to pharmacies. The support for shielded people remains in place and unchanged.
Read the full guidance on shielding here 
Cononavirus regional testing site opening in Salisbury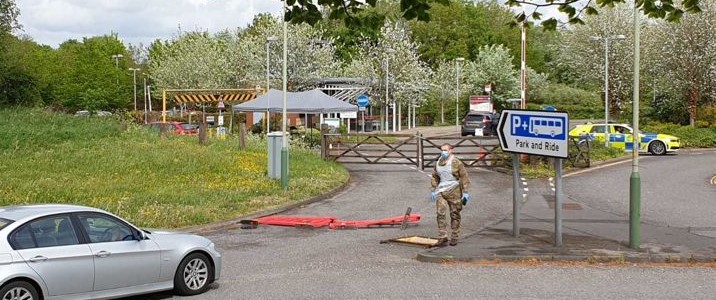 A drive-through coronavirus testing facility is to open at the Beehive Park and Ride in Salisbury, as part of the government's UK-wide drive to increase testing.
 
Anyone experiencing a new, continuous cough, a high temperature, or a loss of or change in their normal sense of smell or taste, can book an appointment on the NHS website or by calling 119 to be tested for whether they currently have coronavirus.  

The testing centre is being operated in partnership with Mitie and staff from Boots in Salisbury who have volunteered to run this COVID-19 testing station, which will start testing essential workers and people with symptoms of coronavirus on Saturday, 30 May.